The end of September marked the ending of one of the so-called large-scale pilot projects of the European Commission – the STORK 2.0 (Secure idenTity acrOss boRders linKed 2.0) project, whose aim was to try out in practice the possibilities of cross-border recognition of electronic identities, which is something that should be compulsorily introduced since September 2018 in accordance with the eIDAS Regulation. For the Czech Republic, the realization of this project involved the Ministry of the Interior and CZ.NIC with its mojeID service, which has been chosen as the national identity (Czech only).
For mojeID users, the most visible results of the project include the option to use mojeID to log in to ECAS (European Commission Authentication Service), where the solution from the STORK project 2.0 has been implemented.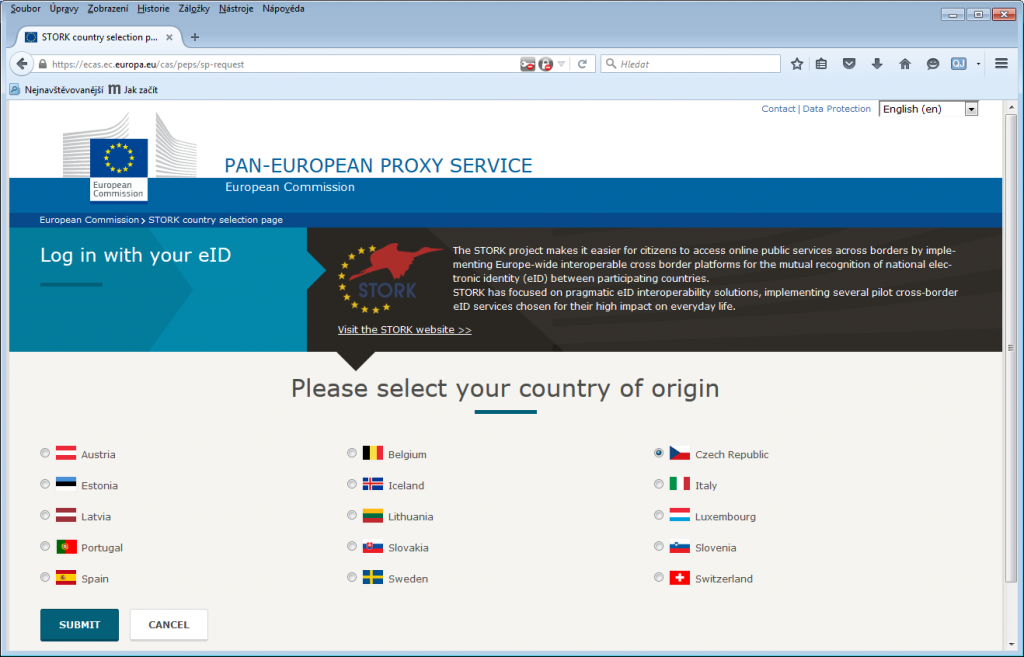 Since last week, the European Commission has allowed the use of mojeID for the CIRCABC (Communication and Information Resource Centre for Administrations, Businesses and Citizens) service. This server is used primarily by officials who frequently download documents from there before meetings in Brussels.

To log in via the national eID, it is necessary to choose the external login at the ECAS homepage and then the option eID and Czech Republic. With respect to the defined levels of trustworthiness (Czech only) (within STORK called QAA – Quality Authentication Assurance), the login is only possible for validated users of mojeID.
For other services using ECAS (esp. Participant Portal designed for submitting grants), the European Commission has yet to enable the login via national e-Identities.
eIDAS = mojeID + PEPS
Although login via mojeID is currently only possible for certain services of the European Commission, I consider this option important primarily because it represents a practical test for cross-border identification. At present, there is an intense discussion in the Czech Republic on the implementation of the eIDAS Regulation and its practical implications, and it is the ECAS service where each holder can test how such a login using national gateways (in the STORK 2.0 project, they are called PEPS – Pan-European Proxy Services, while in the current terminology of the European Commission and eIDAS they are referred to as the so-called eIDAS nodes) will work in practice.
In terms of infrastructure (the so-called Digital Service Infrastructure), the national gateways will play a very important role in the smooth implementation of eIDAS, as they represent one of the cornerstones of e-services of the so-called Digital Single Market. Based on the recently finished European Commission tender, the Czech national gateway will be operated by CZ.NIC at least until the end of 2019, that is until more than a year after the introduction of mandatory cross-border recognition of eID according to eIDAS.
However, thanks to the STORK 2.0 project and mojeID you can already try cross-border login now.