The CZ.NIC Association joined the campaign – Family Offline Week with the subtitle "We are not afraid to be offline together", which will be held this year from May 11 to May 19, 2019. The purpose of the 4th year of the campaign is not only to celebrate the International Family Day, on May 15, but above all to think about the excessive use of digital technology. The uncontrolled use of mobile phones, tablets and computers not only causes health problems but also worsens interpersonal relationships. Children from early age play with tablets and mobiles, often losing social contact with their peers.
Therefore, together with other organizations involved, we would like to invite families to share offline activities and motivate them to at least disconnect from the virtual world for a while. All registered events must meet the condition that no digital technology will be used. CZ.NIC will contribute to the campaign with a discussion over the book ON-LINE ZOO, where we will talk to children about the pitfalls in the online world using a printed book, pictures and games. On Saturday, May 18, we will conclude a "string" of seven discussions at the Central Library in Prague, with the first six being held at the Hornoměcholupská Primary School in Prague and at the Tisá Primary School in the Ústí Region. We are already looking forward to traveling with children for animals to the zoo and pleasantly spent moments.
Other ways to experience offline moments and a little education are offered by our safety memory game pexeso, which you can download, print, cut out and start playing. Although this memory game focuses on online risks, it has no electronic version. The electronic version, unlike paper version, does not allow to develop fine motor skills. It learns us to be patient (a real opponent is not as fast as an electronic one) or to clean up the playing field. At the same time, the electronic version is deprived of the often interesting conversation over the individual images and terms, so as to understand them there can be used an explanatory glossary.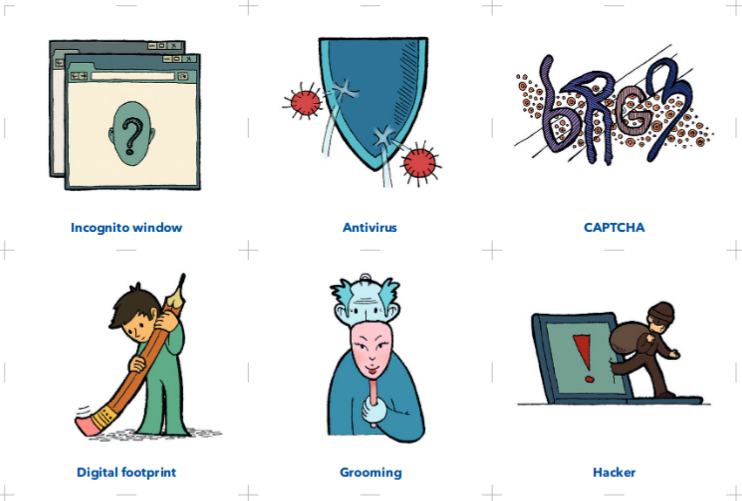 Modern technology is certainly a good help, but it can also be a bad master. They have a practical use, make life easier for us, but if we work with them without thinking, they can easily seize control over us. Above all, parents should lead their children by example and not look too much into the displays of their mobile phones. Even short day-to-day activities such as reading a book, telling a story, playing board games, going for a walk or doing sports help to build a better relationship and trust between a parent and the child.
Hereby we would like to invite all of you, let's stop for a while and turn off your mobile phones for about two hours and spend time with your children, parents, friends. Staying offline can be a difficult task for some of us at first, but if we try to do so, we will feel good about ourselves being a step closer to independence from digital technologies and closer to our family and friends, whom we will be able to devote to without a single beep or mobile phone ringing. Isn't it an appealing challenge?