Last year, our open source FRED registration system experienced a success in Togo, Argentina and Malawi. In particular, Argentina, as the eighth largest country of the world, made us very happy. Argentina is now the largest domain register that uses FRED apart from us. Since we have information from countries that have been testing our system for a long time, we were quite surprised to hear from Macau at the beginning of this year that they managed to complete the installation and transition and are planning to run production soon. The .MO domain registry is the first Asian destination of our product. Shortly thereafter, we learned of another registry in Africa that managed the transition to FRED. It is a small land of Lesotho using the .LS domain. Let's look at these new additions to the FRED user community in more detail.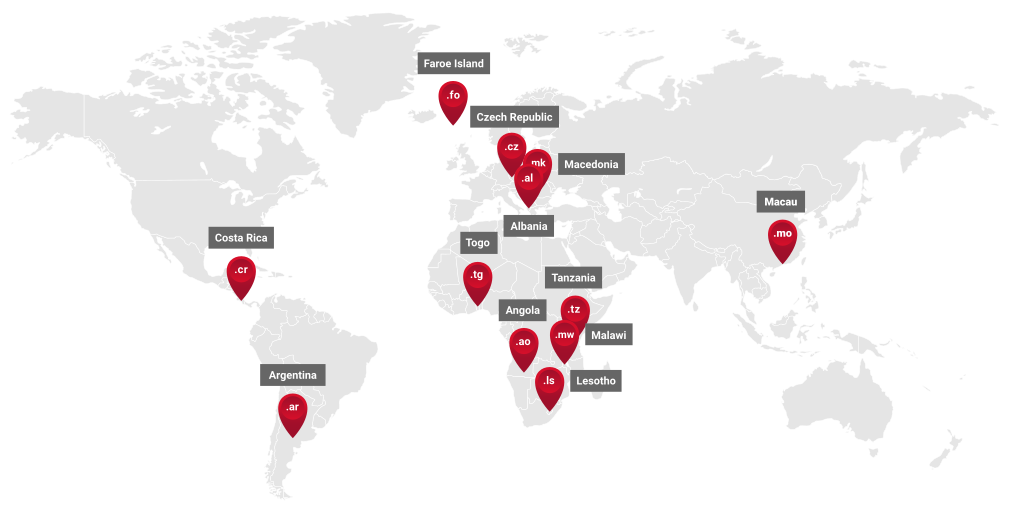 Togo, a small African country located on the coast of the Gulf of Guinea is a little mysterious for us. They told us in early 2016 that they had been using FRED for the .TG domain administration for a long time, and that they needed help with creating database queries to find some information from the data stored in the registry. Our communication worked for a few months, but then stopped. According to the information from some other African partners, Togo is trying to decide on who will administer the national domain. It is possible that the people we have communicated with will be replaced with others. We will see what direction the situation takes and, if confirmed, we will remove Togo from our FRED usage map.
In April 2016, shortly after IETF in Buenos Aires, Argentina's NIC Argentina domain registry wrote to us that they decided to use FRED for .AR or, more specifically, for eight second-level domains (COM.AR, ORG.AR, NET.AR, INT.AR, GOB.AR, MIL.AR, TUR.AR and MUSICA.AR). System preparation and transition took them about two months. The Argentinean domain was quite interesting for a long time since it used to be completely free of charge. Prior to the introduction of fees in 2014, the registry had roughly two million domains. Charging naturally led to a rapid decline. At the time of transition to FRED, the registry had approximately 550,000 domains. NIC Argentina currently works as a registry but also as a registrar, and the domains must be ordered directly through their website. Shortly after the transition, colleagues in Argentina launched the RDAP protocol and thus became the second country in the world to register the RDAP server in the IANA registry.
As for Malawi, we have been in touch with the administrator of the Malawi domain registry for several years, and although they were very interested in FRED, the final production operation in the .MW domain registry wasn't launched until the second half of last year. Unlike Argentina, Malawi started an accreditation process for registrars right after the launch, and is currently offering its services through about 15 registrars. There is currently around 10,000 domains in the MW domain registry. As in Argentina, there is a system of several second-level domains in Malawi (AC.MW, CO.MW, COM.MW, COOP.MW, EDU.MW, GOV.MW, INT.MW, NET.MW and ORG.MW). However, it is possible to register a domain even in the .MW zone directly, as opposed to Argentina.
In the small Asian country Macau, the .MO national domain is administered by the MONIC company. They have been working with their partners from the .ASIA registry to launch FRED, but it is still commendable that they have managed to transition without much support on our part. The .MO domain still works much like Argentina, that is without registrars. MONIC currently maintains around 3,000 domains in the registry. Interestingly, MONIC uses FRED also for IDN domains in Chinese and Portuguese. Domains can be registered both directly in .MO and in specialized second level domain zones (COM.MO, EDU.MO, NET.MO, ORG.MO, 公司.MO, 教育.MO, 網絡.MO and 組織.MO).
For now, the newest addition is the .LS domain registry, which administers the Southern African Lesotho national domain. Lesotho is an example of the fact that the community around the FRED registration system is now operating almost without us. As part of the .LS and .TZ domains African registry partnership (FRED has been running in .TZ for many years), an extensive exchange of experience has taken place and with Tanzanian help, Lesotho put the .LS domain registration system into operation without any involvement on our part. In Lesotho, it is now possible to register only third-level domains in CO.LS, ORG.LS, GOV.LS and AC.LS zones and together they have around 1,300 domains. The registrar accreditation process is currently underway, and when the whole process starts, they also plan to open registrations directly in the .LS domain zone.