Last month, the CZ.NIC Academy co-organized the second cyber camp for twenty children from Prague 9 Children and Youth Center.
Based on last year's experience, we skipped icebreaker games with the children and started right away with activities prepared by Nora and Lukáš, our 3D printing colleagues. Apart from this fun activity, the children were tasked with "offline" production of game boards, on which they later played a tournament among themselves. It was lovely to learn that some of the children also played the game in the evening with their parents. The tournament lasted throughout the week, and its winner was awarded a small portable speaker. For the afternoon program, the children had to travel all the way to Bohnice, but it was definitely worth the journey because they got to play laser games.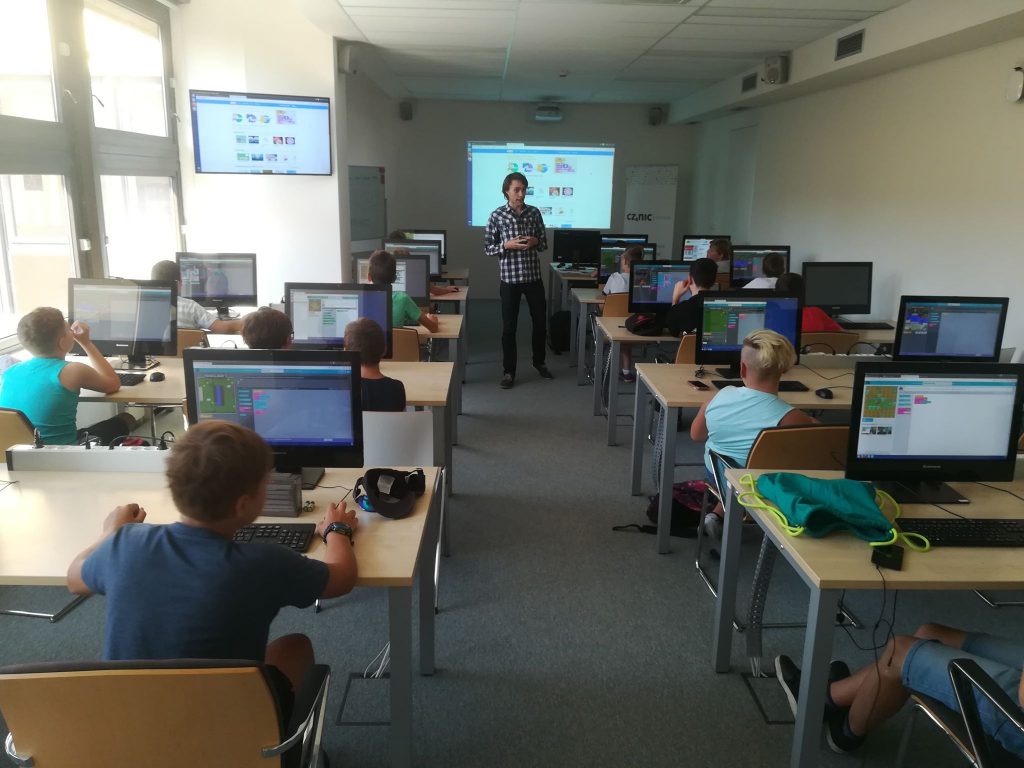 The Tuesday program was started off with a bang by our colleague Edvard Rejthar, who has many years of experience with the organization of children programs and games. In addition, he has experience from an amateur drama club and his program was met with great enthusiasm by the children. They had to turn off their mice and fulfill simple tasks that were not accompanied by any interactive graphics. One would have thought the children would find it boring. But the opposite was true, thanks to the incredible detail with which Edvard planned the activity. The children didn't need any graphics; they enjoyed levelling up and finding out that "it's impossible" are just words – and if they stop saying them, they can succeed faster. Under Edvard's leadership, many participants of the cyber camp learned the benefits of working with a computer using keyboard shortcuts. Children aged 10 to 15 have learned how to do, without the help of a classic mouse, activities like switching, opening and closing windows, installing programs via the terminal, creating and organizing new folders, and much more.
Wednesday and Thursday were organized by Jirka, a successful participant of Cyber Security Competition. On Wednesday, Jirka prepared a program related to cyber security for the children. The children learned how to keep their secrets and how their Internet identity is important. In the afternoon, the children received tiny robots they assembled themselves. On Thursday, Jirka's lecturing skills passed a test when we found a mistake due to which the originally planned program couldn't be implemented. Jirka immediately told us that it was no problem because he had plans B and C.
I think we can say that the plan B was the most successful morning program of the whole week. In a very simple and fun way, the children learned to program their own game. But that was not enough for Jirka, who wanted to do even more for the children, so he got them keys to this pay-for game from its English-speaking developer, and he not only downloaded the game so the children could play it on Friday afternoon, but he also translated it into Czech for them.
Thanks to the good terms our colleague is on with the staff of České radiokomunikace and their kindness, the Thursday afternoon program took place at the Žižkov Television Tower, where we, apart from enjoying the view, could also learn about the functioning of a big data center.
On Friday, we were visited by ladies from National Cyber and Information Security Agency, who shared with the children a story of Bára Bezhlavá, who thought the Internet was an anonymous place. It was a workshop, during which the children were tasked to find as much information on Bára Bezhlavá as possible using a standard Internet browser. If you're interested, you can try this task yourself.
This year's cyber camp was a success and I'm sure there are more years to come.